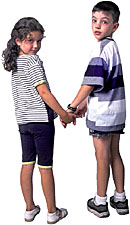 Thanks for visiting FundRaisers.com! Share it with other people for their fundraising campaigns.







Fundraising Tips:

Direct Sale Products Vs. Order Taker Fundraisers


What should your group use, direct-sale fundraising products or pre-sale brochures for your next fundraiser? Get the pros and cons on both.


Fundraising With Direct Sale Products


How Direct Sale Fundraising Typically Works:

Your group orders an inventory of products; these products are distributed to your group members who sell the products directly to their supporters; funds are collected at the point of sale.

PROS


Requires only one contact with individual consumers

Direct sale takes less time than Pre-Sale because there is no product to deliver and no returned goods to deal with

Usually has a very low retail price per item which results in an easy sale



CONS

Slight risk if you over-purchase

Less variety of products to offer



vs.

Fundraising With Pre-Sale Fundraisers (Order Taker Brochures)

How Pre-Sale Fundraising Typically Works:


Your group requests one brochure per fundraising participant. The participants show the brochure to potential supporters. The supporter selects a product from the brochure which the participant records on the brochure order form. These order forms are then returned to your fundraising company, who fulfills the order and ships the products to your group. Your group members and volunteers deliver the products to their supporters. Funds can either be collected at the time of the selection or upon delivery.


PROS
No risk because it requires no guess work on how much to order

Brochures offer a wide variety of products and range of prices

Easy to include parents and adults in the fundraising efforts by having them circulate the brochure at work



CONS

Can require more time to complete because products must be delivered and may require dealing with broken or missing items










Don't Keep It To Yourself!


We're looking for YOUR unique fundraising ideas. Share your success stories with us and we might feature it right here on this page. Send your stories to...


idea@fundraisers.com