Featured Idea:
Turbo Charging Your Next Fundraiser
with Mini Turtles
No, they're not Mutant, and no, they aren't trained as Ninja warriors, but the Mini Turbo Turtle characters trademarked by Great American Merchandise &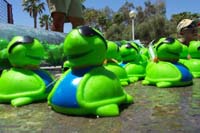 Events (GAME) do have a future so bright they're sporting some pretty cool shades. GAME has morphed a fundraising product that has proven highly successful for large charitable organizations into a package designed for individual schools, church groups, PTA's and smaller community groups.
The original Great American Duck & Turtle Races have managed to raise hundreds of thousands of dollars per event since their arrival on the fundraising circuit. These large scale events are closely monitored by GAME and the "adopted" rubber characters are leased for the duration of the event only. The Mini Turbo Turtle Races can now be purchased by smaller organizations and used repeatedly for seasonal or annual events or to jazz up other ongoing fundraising efforts.
Mini Turbo Turtle races staged by these school, civic and community groups and others have raised tens of thousands of dollars for worthy causes. If a picture is worth a thousand words, the photos from these events provide an encyclopedic volume of satisfied supporters. Organizers and participants alike are charmed by the infectious smiles and giggling excitement awaiting the results at the finish line.
Henry Shaw from the Boys and Girls Club of Paris, Texas is thrilled with the results of their Mini Turbo Turtle Race on August 31, 2003. They purchased the Big Kahuna package and "adopted" 2,412 of the 3,000 available turtles. This resulted in a net profit of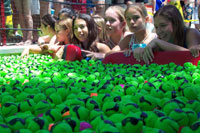 $27,000. Shaw says, "This is hands down the most BANG for your buck!" Marketing for the event included ads on six radio stations and the local paper. Shaw reports he has "tried several different fundraisers in the past, and this one has taken the least amount of work for the most money." They are already planning for this year's event.
Jay McCall of Life Donor USA in Tucson, Arizona provides a testimonial of his experience with GAME's Mini Turbo Turtle Racers. His organization arranged charitable "adoptions" for 700 Mini Turbo Turtles from a Li'l Dipper (1k) package their first year. Minimal advertising included a website for the event; they relied on personal solicitation as the main marketing tactic. Life Donor USA raised $7,000 the first year with the smallest available package. They charged a $10 "adoption" fee for each turtle. Their next race will be Aug. 14, 2004 at the Hilton hotel using their pool and water slides. Additional turtles will be purchased closer to the event date.
The Walton County Chamber of Commerce initiated a modest event in April of 2003. Pam Tedesco indicates their first foray into fundraising with Mini Turbo Turtles was done with "no formal advertising, only word of mouth." The race took place in a large, figure-eight shaped pool with turtles being dropped down a waterfall. The Li'l Dipper (1k) package resulted in the "adoption" of 300 turtles. Efforts are underway to increase participation for their next event and the Walton County CCOC plans to purchase additional turtles from GAME.
Other organizations staging Mini Turbo TurtleTM Races include: Park Lane Academy Band in Tyler Town, Mississippi and the 21st Century Preparatory School in Racine, Wisconsin; both groups purchased 3,000 Mini Turbo Turtles. The Jackson Hole High School Booster Club in Jackson Hole, Wyoming and the AISD Education Foundation, Inc. in Alvin, Texas each bought 2,000 of the decidedly green, aquatic reptiles. Parker Middle School PTA in Taunton, Montana and the Pi Kappa Phi in Oxford, Ohio each ordered 1,000 of the sporty, rubber characters.
According to Phil Gordon, Vice President of Events at GAME, "The Mini Turbo TurtleTM Race, unlike our signature event, the Derby Duck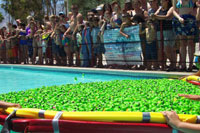 Race®, is a racing package in which the client owns the characters outright (they are leased for a duck race). The Mini package includes the Mini Turtles, Adoption Shells, a racing manual, a small quantity of promotional merchandise, and use of GAME logos and trademarks – all of these items can be used by the client at their discretion."
The main advantages of the Mini Turbo Turtle package include the opportunity to purchase the trademarked characters and hence conduct events on a regular basis without the assistance of GAME. The volume of characters purchased is significantly lower than the events staged for large non-profit organizations and lends itself to use by smaller charitable groups. Gordon says, "The only challenge to the Mini Races is determining which of our three packages best serve the needs of particular groups. The packages are: The Li'l Dipper – 1,000 turtles; The Super Slider – 2,000 turtles; The Big Kahuna – 3,000 turtles."
GAME provides a Marketing Coordinator to help smaller organizations assess their specific needs. Some of the key factors include: size of staff; size of population or market; staff resources (time, experience, and budget); and the amount of money the non-profit hopes to raise. Kronenberger says, "By spending a few minutes with our Marketing Coordinator, the quantity of characters to race usually becomes obvious quickly."
Because the logistics are more streamlined than the larger scale Duck and Turtle Races, Mini Turbo Turtle Events come together relatively quickly. After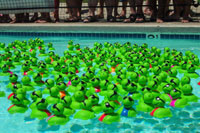 signing a Mini contract with GAME, it generally takes less than a week to receive the Turbo Turtles. Individual options abound, "It is at the discretion of the client to do as they desire with the package, however, GAME can offer suggestions that have come from previous racers," says Kronenberger.
Most planning periods for a Mini Turbo Turtle Race average about two to three months. The clients experience in planning events is crucial to time allotted for development. GAME reports the four key steps to a successful race are: capturing media for advertising; securing sponsorship for prizes and monetary contributions; sales; and logistics. All of these key steps are the responsibility of the client. GAME does not offer customer service support for any of the Mini packages. The client assumes complete responsibility for all aspects of the Mini event.
Great American Merchandise & Event's Duck and Turtle Races provide a wonderful complement to traditional fundraising efforts like walk-a-thons, candy drives and charity auctions. The unique ability to purchase Turbo Turtles provides nonprofit groups with the ability to stage annual events, amortizing the initial cost over a period of time and multiple Turtle Races. Turbo Turtle Races are fun and exciting; perfectly geared for schools, children's charities or any fundraising effort appealing to the child in all of us.
-- DeWayne Lumpkin
To find out how you can have a Turtle Race in your local community send email to TurtleRace@fundraisers.com.