Lunch Box Comics: A Healthy Fundraising Alternative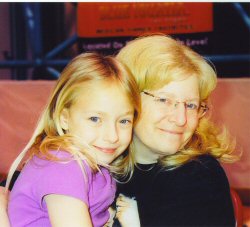 Mindy Myers
CEO, Sound Advice, Inc. Does grilled ham and cheese on white bread, chips, cookies and soda ring a bell? That's because it's typical lunch fare for many school-aged children. Is it any wonder so many youngsters are overweight?

According to the North American Association on the Study of Obesity, elementary school-aged children weigh10 pounds more than they did 40 years ago, on average. Teens are averaging a 10–16 pound increase during the same time period. Who is to blame for this surge of obesity? Many point the finger at working parents suffering from time limitations.

"Making a school lunch is at the bottom of my list of things to do," says Wendy Goldsby, a single, working mother from Oakland , CA . Her son is 12 years old. "I often don't get home until 7 p.m. I need to spend my time helping my son with his homework and doing chores. I grab whatever's convenient and throw it in my son's lunchbox, even though I know it's not the healthiest."

Wendy, like many other mothers, often reaches for a quick solution to the school lunch dilemma: pre-packaged foods like chips, cheese or peanut butter crackers and cookies. These foods are high in fat and low in fiber and nutrition.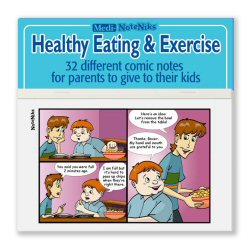 Moms like Wendy Goldsby consider Healthy Eating and Exercise comics an antidote to America 's fast food craze. "I read each Healthy Eating and Exercise comic before placing it in my son's lunchbox," she says, acknowledging that the comics have had an influence on her as well as her son. "I now find myself choosing low-fat and whole-grain foods when I'm in the supermarket."
Colorful wrappers and packaging that lure unsuspecting children towards unhealthy foods often feature recognizable characters from Saturday morning cartoons. Gullible children are drawn to the foods that become associated with fun. Food content becomes secondary, and that's when Mindy Myers, CEO of Sound Advice, decided to create NoteNiks.
Mindy says "I felt it was my duty, as a parent, to direct and guide my son at all times. Of course it wasn't practical or even possible to offer guidance while he was away at school. That's when I came up with the idea of a school lunch-time message that promotes healthy eating, exercise, and wellness."
Changing a culture that reveres fast food and candy may seem impossible, yet the fundraising community can impact the growing obesity problem. Organizations aren't restricted to selling items without social value. They can opt for alternative, healthy fundraising products. It's possible - even admirable - to raise funds WHILE positively impacting children's lives.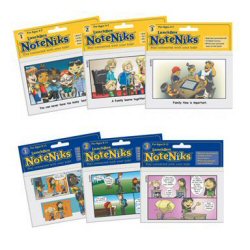 Lunchbox Comic Pads make an excellent fundraising item for schools, churches and family-related organizations and nonprofits. Priced at only $4 per pad retail, Sound Advice offers an attractive wholesale and fundraising pricing structure for fundraising campaigns. It also makes perfect sense to offer products that are beneficial to youngsters when fundraising for a charitable cause that's related to children.
Each pack of Healthy Eating & Exercise comics contains 32 different notes. Orders for 5,000 or more NoteNiks allow organizations to custom print information on the header and back panel. A charity's name, contact information, event calendar and any other pertinent information receive star-billing with this customized option.
Each comic includes affirmative messages. Topics include: portion control, choosing water over soda, healthy snacks, getting enough exercise, the influence of body image by the media and many others. Moms are encouraged to place a comic in their child's lunchbox each day. The notes serve to remind children to make healthy choices and offers solutions to the barrage of fat-filled and sugary food temptations. The comics also serve to educate parents who are influential in their children's eating habits.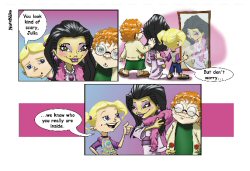 Using comics to guide and advise children while they are at school originated with LunchBox NoteNiks, Mindy's first comic note pad product. The LunchBox NoteNiks for kids ages 4 - 7 stress the importance of family; the lunchBox NoteNiks for kids ages 8 - 12 help kids grapple with bullying, teasing, friendship making, and other growing up issues.
The education industry and back-to-school markets immediately welcomed LunchBox NoteNiks as a unique educational product with social value. When the concept and products were applied to school fundraising, the response was overwhelming. Parents who were tired of buying wrapping paper and subscribing to magazines opened their wallets for the groundbreaking product that positively impacts a child's life.
Karen Kolligs, Fundraising Co-Chair for Tehiyah Day School in El Cerrito , California , says, "We used LunchBox NoteNiks as one of our fundraisers last year. Parents loved the idea of buying something that could positively affect their child's behavior."
Tehiyah Day School raised over two thousand dollars from sales, which enabled the school to buy much needed library books and supplies.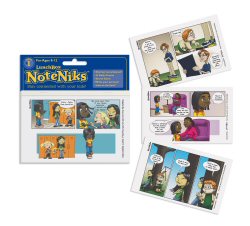 Karen adds, "I bought three packs of LunchBox NoteNiks for my son. At first I thought the comics would be a cute lunch box surprise, but over the weeks I saw a change in my son's behavior. I think the comic messages were really affecting him."
LunchBox NoteNiks soon paved the way for the creation of Medi-NoteNiks . This new line of lunch-time comics was specifically designed for children with medical and behavioral conditions that need extra emotional support. As with the LunchBox NoteNiks, Medi-NoteNiks comics are placed in a child's lunchbox as a way to support a newly diagnosed child.
Every child experiences the rollercoaster of growing up, but kids with medical or behavioral problems have twice as many hurdles to overcome. Medi-NoteNiks are comic notes that acknowledge the emotional baggage that often accompanies these differences.
Mindy says, "Medi-NoteNiks for kids with Asthma was the first Medi-NoteNiks pack I created. My youngest child has asthma and there were many nights when I listened to her cry about being embarrassed to take medication in front of friends and feel ashamed of carrying her inhaler around. The comic notes served to normalize the condition and made her feel like she wasn't the only one with asthma. The notes also helped her to be mindful to cover her mouth on a cold day, keep away from smoke and stay indoors after the lawn was freshly mowed.
After learning that Attention Deficit Disorder in elementary-school-aged children has increased 700% since 1990, I created a pack of Medi-NoteNiks for kids with ADD/ADHD. These notes were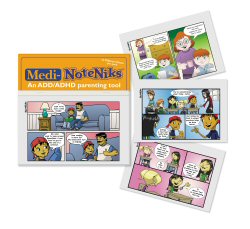 designed to work in conjunction with medication, psychological intervention and parental support."
The goal of Medi-NoteNiks for kids with ADD/ADHD was to help a child who is trying to manage his focus problems, distractibility issues, and behavior problems. The fun and supportive comic notes help children understand their limitations. They also empower frustrated parents who, until now, have had few tools to help them intervene in their child's treatment.
Comics for children with pediatric diabetes and cancer are slated for Spring of 2005. For more information regarding Sound Advice email noteniks@fundraisers.com.
-- Annie Van Bebber

About Mindy
When individuals recognize a problem in their society, they respond in many different ways. Some turn a blind eye; others join organizations that operate on local, regional and national levels to address the issue. A few pioneering personalities, like this month's "Person Behind the Cause," launch their own companies and place personal fingerprints on a variety of causes.
Mindy Myers founded Sound Advice, Inc. and began producing NoteNiks – comic note products – in response her son's ADD diagnosis and her daughter's asthmatic condition. Her personal concerns now encompass a variety of children's health issues with corresponding products offered to fundraisers across the country.
Juvenile obesity and diabetes is covered along with preventative oral hygiene. Attention deficit disorder and asthma were a natural and the product line continues to expand through client input and Mindy's creative brainstorming.
The most striking element of NoteNiks is their ability to address physical, medical, emotional and psychological issues in a way that children are receptive to. The response from clinicians and medical professionals has been overwhelmingly positive. Mindy's background was perfect preparation for this endeavor.

She earned her master's degree in Education with a focus in Child Development from Mills College in CA, and is a doctoral candidate at Saybrook Graduate School where she is studying Educational Systems Design. She is also a past Editor of Parents Magazine. Mindy lives in Oakland, California with her husband and children.