Featured Idea:

iSOLDit: Charity Auctions Made Easy
Merging Humanity and Technology through Altruistic eBay Applications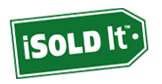 Success, in both the private and nonprofit sectors, often springs from equal parts of pluck and luck. Admittedly, monopolizing on these elusive qualities takes a certain presence of mind. Elise Wetzel demonstrates her intuitive business skills with a cutting edge concept, iSOLD It, which makes raising funds easy for worthy causes.

iSOLD It catapulted to the head of a distinctive class of entrepreneurs searching for ways to work with Internet auctions instead of struggling against them. The idea of launching storefront locations for customers to drop-off items for auctioning on eBay had its genesis in a fundraising project for a playground at Wetzel's children's school.

Her flagship iSOLD It storefront in Pasadena has been so successful that after only nine months of operation, 237 additional stores are scheduled to open under franchise contract agreements in the coming year. At least 50 of these locations will have their doors open for business by the end of 2004.

Wetzel says, "I really think I've tapped into a service that a lot of people are looking for." That service, as she sees it, is simplifying the selling process on eBay. "It's really easy to buy merchandise on Internet auctions like eBay, but it's complicated to sell."

The key to successful fundraising ideas is maximization of financial returns while minimizing the workload on understaffed nonprofit organizations. Wetzel believes iSOLD It fulfills that goal. "I see so many nonprofits holding rummage sales and I think this is a much better vehicle for maximizing their return on donated items. eBay has millions of regular users and this traffic means increased demand for the items being sold."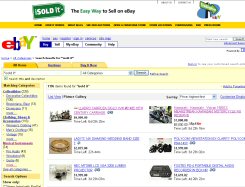 The age old concept of "supply and demand" is addressed by Wetzel's concept. iSOLD It stores supply the staff and technology to sell goods where they are most in demand, securing top prices for donated items in the process.
They've already partnered with local nonprofit groups and schools. Elementary schools in La Canada , California held a drop-drive that raised several thousands of dollars for school programs pinched by ongoing budget cuts.
Wetzel's business supplied organizational and marketing materials establishing the dates and locations of the drop-drive. This included six different days with three school drop locations and three drop locations within the community. The items collected were auctioned on eBay by iSOLD It at a discount commission rate, offered to all qualified nonprofit groups.
"The beauty of this is you're turning fundraising upside down – you're not asking for money or a handout – you're just giving people a chance to get rid of things they're not using while supporting a cause that's important to them," Wetzel says.
Their website succinctly states: "iSOLD It now offers a completely innovative, extremely simple way to raise funds for your organization. Simply register your not-for-profit with iSOLD It to qualify for our discounted fundraising fee structure. Then, ask your network of supporters to drop by iSOLD It with items to sell on eBay (be sure to have them specify your organization as the recipient of the funds."
"Once an item sells, we'll send your organization a check! For even more impact, let iSOLD It help you organize a Drop Off Drive at your school or other location. We can provide the forms for you to use to collect items at a location of your choice."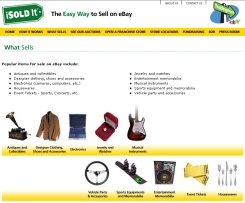 One of the most important elements of a successful fundraising drive with iSOLD It is getting donors to drop-off desirable items that will garner high-dollar bids on eBay. Wetzel says, "It's important to educate people about what types of things sell well on eBay. We can search for comparable items that are selling at online auction sites to determine whether they'll generate high bids."
The iSold It website includes a list of popular items on eBay: Antiques and collectibles; Designer clothing, shoes and accessories; Electronics such as cameras, computers and stereo equipment; House wares; Tickets to sports events and concerts; Jewelry and watches; Entertainment memorabilia; Musical instruments; Sports equipment and memorabilia and Automotive parts and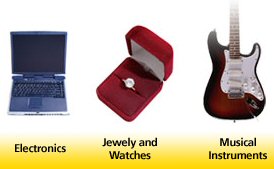 accessories.
One of iSOLD It's memorable taglines advises nonprofits to "Turn Old Memories into New Money with iSOLD It." Their website claims it's as easy as 1-2-3 .
Number one: Drop it off. Personalized assistance makes it easy to leave your merchandise in the hands of professionals who will photograph and list individual items on eBay.
Number two: Watch the action. "Once we've listed your item on eBay, we'll send you an email with a link to the auction, so that you can watch all the action as it occurs. Many of our sellers tell us this part is as fun as getting their final check."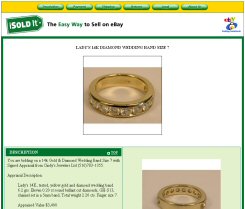 Number three: Collect your check. "After the item sells, we collect payment and professionally ship your item to the winning bidder. Once the transaction is complete, we send you a check. Or, if you prefer, we can send the proceeds to your favorite charity." Wetzel says, "The turnaround - between dropping an item off and receiving a check - is typically within a thirty day period." Unsold items can be picked up or donated to local charitable groups.
Wetzel is excited to announce their first national partnership with "Adopt-A-Minefield." "Most of our fundraising has been on a local level, this is our first national effort," she says. She hopes an increased national presence from iSOLD It storefront openings will lead to expanding nonprofit partnerships with high-profile causes.
iSOLD It storefronts are stylish and appealing. Their distinctive look was developed to make people who aren't comfortable with computers or selling online feel at-ease. "Our store design is bright, crisp, clean and inviting," Wetzel says.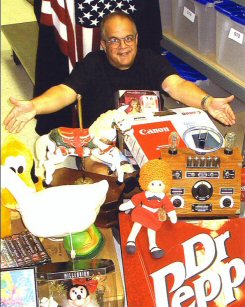 Richard & Helene Chemel are part of the first wave of iSOLD It franchise stores expected to crest around the country in the next year. They are thrilled with the storefront concept for online auctions and dedicated to helping nonprofits make use of their service. Their first fundraising drive coincides with the Grand Opening of their iSOLD It storefront in Chatsworth , California this month.
Richard Chemel knew former residents of The Friends of Cabrito House in Canoga Park , California . The Cabrito House is a men's recovery home that helps men get back to "a life worth living." He says, "Letters were sent to their donor list notifying them that Cabrito House would be the first beneficiary of our store's Charity Program."
He explains, "This allowed us to encourage supporters to do some spring cleaning and identify unwanted items of value that will be auctioned off to support Cabrito House."

Helene Chemel adds, "Since we opened, I've been on the phone calling local schools and organizations to make them aware of our service. It's a great alternative to selling fundraising products."

"We believe that being part of the iSOLD It family and their initiative for fundraising in the local community is a great way for us to be able to give back - right in our own back yard." says Richard.
Elise Wetzel, Richard and Helene Chemel and hundreds of individuals expectantly working on iSOLD It locations around the country are excited about combining a profitable private business with opportunities to support worthy causes.
Newly opened iSOLD It storefronts have quickly established themselves by selling more items each week than any other store of their kind. Unparalleled service and an altruistic attitude ensure iSOLD It franchises will propel fundraising efforts into the next decade and beyond with their merger of technological savvy and wholehearted humanity.
DeWayne Lumpkin
Annie Van Bebber
For a list of Store Locations Click Here
To read more about Adopt-A-Minefield Click Here
Profile of Elise Wetzel, Founder & President of iSold It.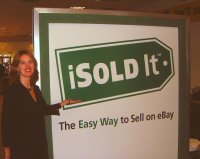 Elise Wetzel has 15 years of marketing and new product development experience at packaged goods companies including Nestle, Unilever and Procter & Gamble. In addition, she was part of the initial team behind online entertainment studio z.com, an Internet start-up backed by technology incubator Idealab.

As Director of Marketing at Nestle Foods, Elise ran an $800 million portfolio of confections brands, including Butterfinger, Baby Ruth and 100 Grand. Throughout her career, she has placed an emphasis on new product development and has tested hundreds of product concepts, bringing the winning ideas to launch. In 1999, one of those winning ideas, Nestle Flipz, was voted "New Product of the Year" by BrandWeek.

Elise has a BA from Northwestern University , and an MBA from Northwestern's Kellogg Graduate School of Management.

Elise is married to Rick Wetzel, co-founder and President of Wetzel's Pretzels, a mall-based fresh-baked soft pretzel chain with over 200 company-owned, franchised and licensed locations worldwide.