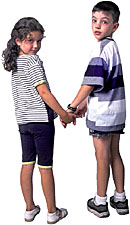 Thanks for visiting FundRaisers.com! Share it with other people for their fundraising campaigns.








Featured Idea:

Lennon Legacy Lives On With A Little Help From Many Friends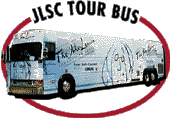 What do you get when you cross an international cultural icon, an altruistic desire to provide musical inspiration to students, and a school bus outfitted with state of the art, multi-media recording equipment? The John Lennon Educational Tour Bus, of course. Throw in a songwriting contest with prizes totaling over $250,000, heavy hitters as corporate sponsors and music giants as judges and you've got a phenomenal vehicle for creating musical sparks in students and building a bonfire of public awareness for music literacy.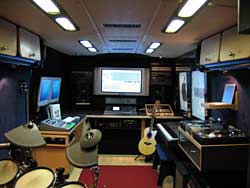 The John Lennon Educational Tour Bus has been touring public and private schools, colleges and universities, community organizations, Boys and Girls Clubs, concerts and music festivals since 1998. Students and other visitors are given an opportunity to gain hands-on experience with cutting edge recording equipment, video production facilities, high quality traditional and electronic instruments…all for free.



It doesn't end with an incredible opportunity to play with gadgets that are usually reserved for the upper echelon of professional musicians. Schools and community groups are invited to apply to schedule a visit via e-mail using the link on the top left of this page.



Elton John, Carlos Santana, Amy Grant, Jellybean Benitez, Michael W. Smith, Wyclef Jean, Black Eyed Peas, Dave Koz, and Sugar Ray are just a sampling of the illustrious list of musicians who serve on the Executive Committee of the John Lennon Songwriting Contest. They've demonstrated their commitment to the project by stopping by and working with the kids; placing the term "hands-on" in a literal context.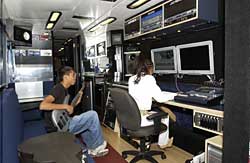 Generous support from Maxell, Yamaha, NAMM, EMI, Discmakers, and MusiciansFriend.com, among others, provides operating funds and prizes for the John Lennon Songwriting Contest and Educational Bus.



Operating as a non-profit program, this mobile facility is decked out with two distinctly different recording studios. The traditional arrangement is located in the back of the bus and has the capability of recording concerts and special events in addition to on board recording. An impressive selection of string instruments, percussion equipment and multiple keyboards are paired with a powerful, on-board public announcement system that allows fledgling musicians, as well as celebrities, to stage performances outside the John Lennon Bus.



The multi-media studio is located in the front portion of the John Lennon Bus. It is set up for audio/video equipment demonstrations, manned by professional technicians and provides an opportunity for visitors to assist in the recording and editing process. Participating students exit the bus with a Maxell DVD of the music video of their experience. Each original composition is written, performed, accompanied, recorded, videotaped and edited by musical novices with the assistance of three on board engineers who travel with the Bus.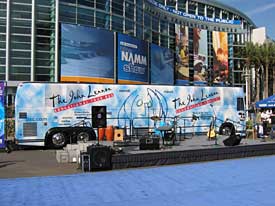 Each year the John Lennon Bus makes over 150 stops at schools, concerts and community organizations. Over 60,000 miles are racked up on the odometer, annually. The powerhouse combination of an instantly recognizable, iconic namesake, generous corporate sponsorship and an amazingly dedicated, talented and charitable group of musicians and technicians keep feet tapping and lips humming across the country. Putting songs in the hearts of students is a huge step in opening their ears and eyes to other learning opportunities.



The John Lennon Educational Tour Bus proudly debuted its $300,000 renovation on January 15th at the 2004 NAMM Winter Conference in Anaheim, California. Technological improvements have sharpened the already cutting edge facilities. In 2003 alone, the Bus generated over 674 million exposures. This year, stops have been added at U.S. Stateside Military Bases allowing children of service personnel an opportunity to participate.



Yoko Ono Lennon retains a close connection with the program bearing her late husband's name and it is with her permission that John Lennon's name and likeness is being used. She says, "John would have been very excited about this project. It's exactly the kind of thing he wanted to happen."


-- DeWayne Lumpkin, Freelance Writer


Additional information on the Bus and the Contest are available at www.jlsc.com.



For the John Lennon Educational Tour Bus:


MEDIA CONTACT


Jo-Ann Geffen, JAG Entertainment
(818) 905-5511 (office)
(818) 266-8433 (cell)
jgeffen@jagpr.com



If you would like to become a Corporate Sponsor, please contact Lennon@fundraisers.com.


CORPORATE SPONSORS

Maxell

Yamaha

NAMM

EMI

Discmakers

MusiciansFriend.com








Don't Keep It To Yourself!


We're looking for YOUR unique fundraising ideas. Share your success stories with us and we might feature it right here on this page. Send your stories to...


idea@fundraisers.com