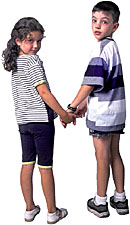 Thanks for visiting FundRaisers.com! Share it with other people for their fundraising campaigns.








Featured Idea:


Grants Pass: The Little Southern Oregon Town That Could…and Did

| | |
| --- | --- |
| | |
| | The Great American Duck Race |
| | |
| | Bear Tales of the Rogue Valley |

On September 27, Grants Pass, Oregon, population 23,003 raised $300,000 for local charities on a single day. Two major events were scheduled for the same Saturday and succeeded by aiming at distinctly different segments of the community.



The Great American Duck Race was a decidedly democratic affair. It represented 13,339 mostly local residents adopting ducks, of the yellow rubber variety, for $10.00 each. The event grossed more than $133,000 dollars with $120,000 going directly to a new Sports Park, courtesy of three local Rotary Clubs.



The BearFest 2003 was a highly successful fine art auction benefiting 21 local charitable organizations. It depended on fewer donors, but the twenty one winning bids totaled $175,500. Life-size fiberglass bear statues became blank canvases for the artistic vision of local painters, sculptors and designers. Each bear was sponsored by a local business. The total proceeds from each successful bid goes directly to a local charity chosen by the sponsor. Evergreen Federal Bank was the major sponsor and project coordinator of BearFest 2003.



Those involved with both fund-raising events agree, "Grants Pass is a very generous community." If actions speak louder than words, the impressive $309,490 raised is hollering at the top of its lungs for other communities to take notice.



Read More About:

The Great American Duck Race

BearFest 2003








Don't Keep It To Yourself!


We're looking for YOUR unique fundraising ideas. Share your success stories with us and we might feature it right here on this page. Send your stories to...


idea@fundraisers.com